With a higher threat of crime in Chicago, it becomes essential of having a home security system for residents living in and around Chicago. Modern alarm systems available today in the market are truly a smart choice to go with as they are capable of providing the freedom from the occurrence of any undesired events. Home Alarm Systems Chicago is not only employed with various techniques but also available in various designs to best meet your security needs.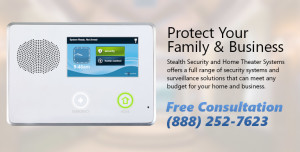 Types
Both monitored and unmonitored types of home alarm systems are useful enough in ensuring your home security at broad level. Installing monitored alarm system will require highly trained security personnel to have a watch over your premises. You will find such systems quite costly. People who are unable to afford such costly alarm system may choose unmonitored systems and they have some fixed dialing numbers fed in them. Usually, the numbers may be of owner's, police station or fire station etc. A siren is also integrated in this system for identifying the exact place of accident. This is way home alarm system Chicago works for you.
Efficiency
The efficiency of an alarm system is demonstrated by its accuracy. Installing a quality alarm system never give alert signals without any threat. The communication passes on and the sensors of the systems are always in a proper functioning mode form the backbone of these Alarm systems. Since these systems run on electricity and the first reaction, so whenever alarm blows, it gives a call to the police or house owner.
Significance
Installing Alarm Systems Chicago at home or office not only provides you with security but also with peace of mind. Being safe, you can pay more attention on your work. Moreover, these security systems are available as per your budget, location and level of security needed. You can easily choose from a variety of Alarm systems available in the market today such as burglar alarm, smoke alarm and CCTV.
Alarms can communicate over phone lines, network, and cellular to protect you from burglary, home invasion, fire, carbon monoxide, medical emergencies.                                                      Hiring a professional for installing home alarm system Chicago will benefit you with expert service by knowledgeable and experienced service technicians to best meet your home and business security needs.
So, if you feel threatened about something and forced to go with sleepless nights, ensure contacting Stealth Security & Home Theatre Systems to maintain your home or office security needs with modern home alarm systems.