You notice security cameras all around you. Public places, homes, retail stores and offices are under surveillance 24×7 in a bid to prevent different kinds of crimes and also ensure people of their safety. While you have already invested on a basic home or office security system it would be a good idea to opt for a security camera Chicago. Its function goes much beyond your security needs. Let us share with you the top reasons for installing a security camera at home or office.
Surveillance – This is the most important reason behind installing security cameras in your homes or offices. These cameras with the support of a Digital Video Recorder can capture and record videos in real-time. You would be able remotely access these visuals using the Internet in real-time. The DVR archives the videos and these can be reviewed whenever you want.
Home Security – With rise in the cases of burglary and other crimes home security has become prime concern for one and all. Criminals often disguise themselves and conduct their act when old people and kids are at home. These cameras allow the occupants to see the person standing outside without opening the door. This can go a long way in keeping the occupants safe.
Gathering Evidence – In the event of a crime these cameras can offer you vital clue. The task of the law enforcement agencies is simplified with the use of these cameras as they get vital starting points for their investigation. Even in an office environment you would be able to zero in on people who are bypassing the rules of your organization and indulging in activities that can pose threats to the organization.
Improve Profitability – Video surveillance has helped in improving profits in many spheres of business. Retail stores have been one of the biggest beneficiaries as it prevents incidents of shop lifting and fraudulent claims made by the customers. These cameras can also be used to monitor the performance of employees in the office and rewarding the performers.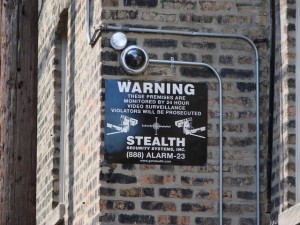 These reasons should be encouraging enough for you to install security camera at your home or office. However you need to be very choosy about the cameras you install as the market is flooded with sub-standard products. At Stealth Security and Home Theatre Systems we have always insisted on installing quality cameras and other security systems at homes and offices. Using sub-standard products nullifies the very idea of investing on these security systems. Our team of experts can review the security needs at your home or office and implement solutions that make these places safer.