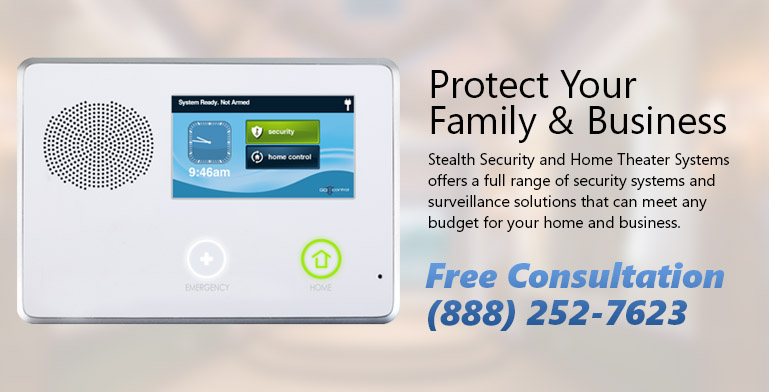 Pioneer Security System Providers in Norridge
Stealth Security & Home Theater Systems, Inc is situated in Chicago. It is a well-known brand in security systems. We do installation and maintenance of security systems and home theater systems. No one can match our services and service rates. Our security systems are most effective to safeguard and shield you and your most precious belongings. We give our services of installation and maintenance of home security systems and home theatre systems in every household, office, commercial property, manufacturing unit, developmental projects, and municipal areas of Chicago and suburbs. There is an intense need of fitting a security system in every premise, as the crime rates have gone fairly higher here than nearby areas. The working methodology in Stealth Security & Home Theater Systems, Inc is very simple; we analyze the requirement, make designs and install them at clients end. The company does the installation and maintenance of a variety of security systems like; burglar alarms; access control systems such as keycard/fingerprint readers, multi-tenant door control and intercoms. Closed-circuit television and camera system surveillance such as the low-visibility camera systems, pan/tilt/zoom camera systems and covert camera systems, secure PC interfaces and motion-sensitivity systems. Each product has its own unique features and usefulness. For example if we look into security cameras, they are more effective in identifying the culprit. Those who know that the premise is equipped with a security camera, they will never even try to enter the premise. Though, security systems are advised based on the client's necessity, and their personal preferences. You can also avail the benefit of our exclusive consultation which is done without any cost based on your inquiries. We are available 24/7 in Norridge, IL to install security cameras and home security systems in homes and businesses.
Services we offer in:
Norridge,IL Home Security Systems
Norridge,IL Security Systems
Norridge,IL Security Systems Installations
Norridge,IL Security Systems for  Business and Commercial
Norridge,IL Security Cameras
Norridge,IL Security Cameras for Business and Commercial
Norridge,IL Security Camera installations
Norridge,IL Alarm Systems
Norridge,IL Alarm System Installations
Norridge,IL Alarm Systems for Business and Commercial
Norridge,IL Cctv systems
Norridge,IL Video cameras
Norridge,IL Surveillance Cameras
Norridge,IL Home Theater Systems
Norridge,IL Home Theater Installations
GET contentment WITH STEALTH SECURITY & HOME THEATRE SYSTEMS
Be content and put all your worries to us. Our highly qualified team will never let you down in choosing the best security products for your home or business. As there are wide ranges of products, it can be tough for you in selecting only a single product. By the hard work of our experts and your suggestion, the selection process can be more comfortable. Security can be considered as your rights and we can feel proud of maintaining the security of your possessions and loved ones. Our team from Stealth Security & Home Theater Systems, Inc can easily customize your security according to your requirements.
SPECIAL OFFER

ONLY $39.95 per Month for Monitoring

Only $44.94 per Month For Remote Smart Phone Access Web Portal Email And Text Alerts

Free Installation
1 Touch Screen Alarm Panel User Interactive Demo

3 Wireless Window Door Contacts

1 Wireless Motion Detector

1 Smoke/Heat Detector

1 Free Cellular Communicator

1 Yard Sign

3 Sticker

Police-Fire-Medical Emergencies

Lifetime Parts And Labor

Monitoring Rate Guaranteed For 36 Months
CALL NOW!
(888) 252-7623
Stop Paying For Overpriced Security Systems with our Best Price Guarantee
Compare Stealth Security & Home Theatre Systems, Inc to overpriced security systems such as ADT with a personal one on one friendly consultation and see how much you can save. Call (888) 252-7623 or email us.-